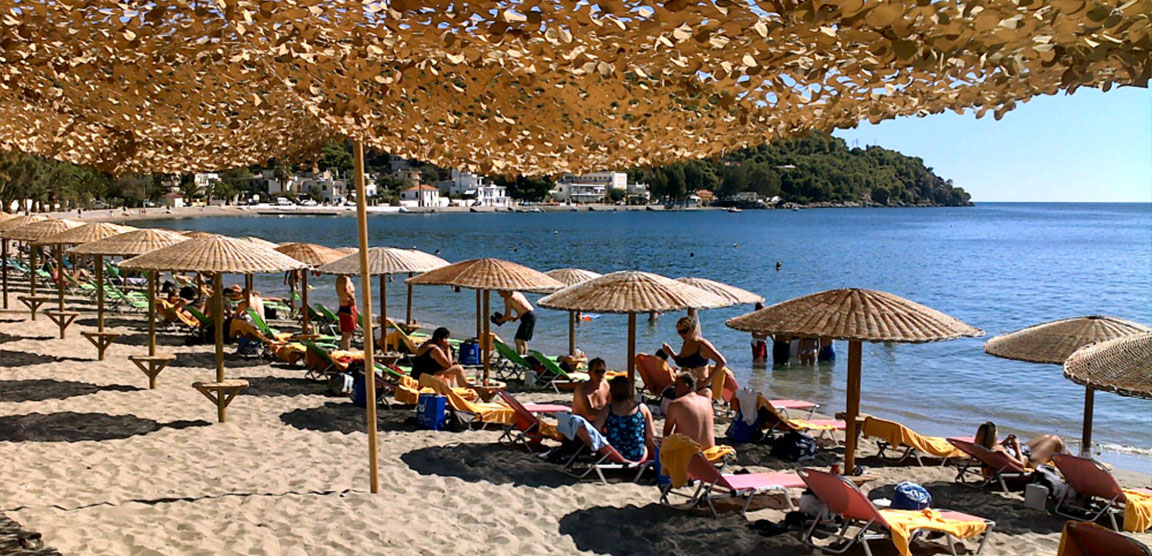 BEACHES
Askeli
100 m. from Ilios Apartments you will find Askeli, the most cosmopolitan beach of the island. It has beach bars with sun loungers and umbrellas, cafes, restaurants and water sports. It has crystal blue waters and a long sandy beach.
Kanali
At Poros bridge you will find Kanali beach. It has sand and is organized. Overlooking the Aegean Sea you will enjoy your swimming in the blue waters.
Love Bay
Love Bay beach has sand and is surrounded by a dense pine forest. It is one of the most romantic places on the island. It is organized and has sun loungers.
Russian Bay
In the center of the beach you will see the ruins of the Russian Bay. The small island of Daskalio is also very close. It is organized and has a sandy beach.
Monastiri
After Askeli you will find Monastiri beach. It has a sandy beach and offers you a unique view of Peloponnese.
Vagionia
Vagionia beach is located in the northern part of the island and overlooks Attica. You will enjoy your swim in the blue waters and is surrounded by pine forest.
Neorio
In Mikro and Megalo Neorio you will find free and organized beaches. There is also a water sports school in the area. You will enjoy your swim in the peaceful waters.
SIGHTS
Temple of Poseidon
Temple of Poseidon was built around 520 BC. and is built at an altitude of 190 meters from the sea. On the northern side of the sanctuary was the temple of Poseidon. Today only part of its enclosure is preserved, as well as the moat of its foundations. In the sanctuary, Demosthenes, ruled by the Macedonians, asked for asylum.
Archaeological Museum of Poros
The Archaeological Museum of Poros is located in Koryzi Square and the exhibition extends into two halls. It hosts sculptures, inscriptions and architectural members from Trizina, Methana and Kalavria.
Monastery of Zoodohos Pigi
Monastery of Zoodohos Pigi dating from the 18th century and is located 4km from the center of Poros. There is an easy access by bus. It is built on a green hill and is a unique example of island monastery architecture.
Russian Bay
Russian Bay is located west of the port of Poros and is amphitheatrically built. The Russians, after the end of the Russian-Turkish war, chose this impoverished port to set up a power station for the Russian fleet.
Since 1989 it is classified as a historical monument and landmark.
Clock Tower
The Historic Clock of Poros was built in 1927. It is the symbol of the island. After the building had suffered major damage, in 2000 it was decided to overhaul it. From 2015, the clock mechanism is installed on the ground floor of the building in a glass case and is visible to all visitors.